AUTOMATION ENABLES STRATEGIC THINKING
AT THE SPEED OF BUSINESS
Automation Enables Strategic Thinking at the Speed of Business.​
Business and IT low-level repetitive tasks are costing your organization large amounts of shareholder value.​
Unified automation strategy, framework and roadmap that integrates with most of your IT and business systems to provide the foundation to remove time lost from repetitive tasks and human error​
Most organizations fail to build a proper automation vision that creates value across all departments.  When automation is viewed as an IT efficiency tool and not a business value creator, the adoption path is much slower.
Think about the term  "Substitution" PIVOT podcast.
Automation is viewed as just substitute tech for people. 
Visionary companies view it as freeing people up to innovate and move apps, company, processes forward
[DATA FROM LAUNCHPADS CAN GO HERE]​
DATA FROM RH AUTOMATION DECK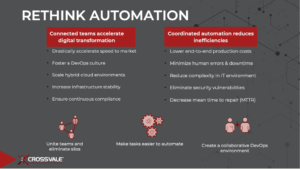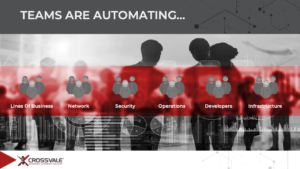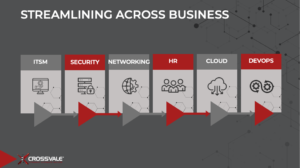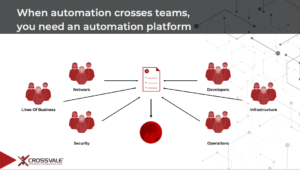 Insurance Company with ~5,000 employees
Saved on average 15 Min 20% of employees
Vendor, Customer and Employee Onboarding
Report Aggregation
IT Provisioning and Post-Processing
Configuration Drift Management
Order Processing (Access Multiple IT Systems)
This provided an additional >91,000 more hours employees could spend on higher level activities to bring business value to the organization.
That is 50 Less employees that would need to be hired at an Ave cost of $75K, that is $3.7M Annual Saving
REDUCTION IN UNPLANNED DOWNTIME
INCREASE IN APPLICATIONS DEVELOPED
Reduction in unplanned downtime