Enjoy all features of the best Enterprise Kubernetes Platform
running in any infrastructure
Why use OpenShift-as-a-Service (OCPaaS) by Crossvale?
In today's market where customer experience is as valued as innovation, it is vital that business focus on delivering applications not the infrastructure on which they are built. OCPaaS enables organizations to tackle modernization challenges, functioning as an extended arm of your operations team, working side-by-side with them.
It does not matter if your OCP clusters are on-premises or in the cloud, with OCPaaS, you will have an expert team that will be in charge of monitoring, patching, updating, scaling, reporting problems and generally maintaining the good health of your clusters and applications, allowing your team to focus on other high-value tasks.
Cluster Maintenance-as-a-Service
Cluster Maintenance-as-a-Service is the same Platform responsibilities you get form ROSA or ARO type solutions but no infrastructure restrictions – Cloud, Hybrid, OnPrem even Bare Metal. OCP your way instead of their way.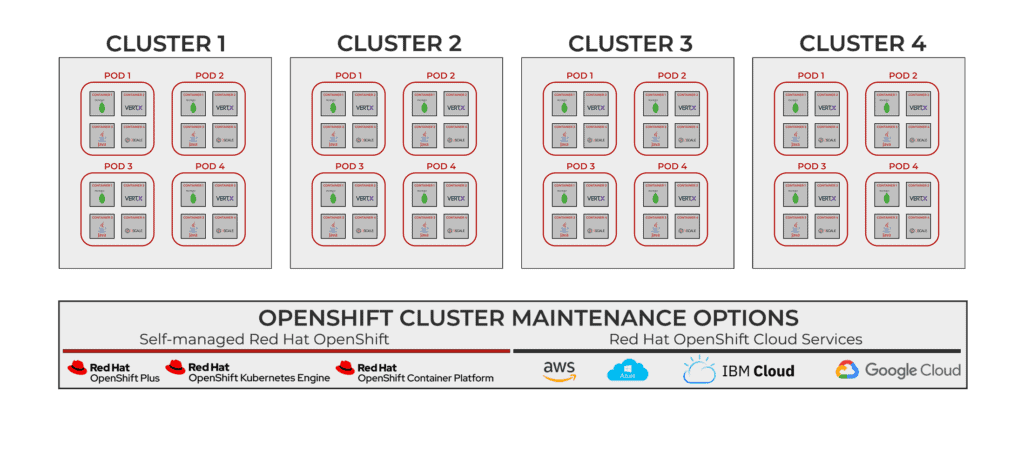 Crossvale not only will maintains your clusters but also understands the potential gap between the infrastructure and AppDev.